home
> Free-time-activity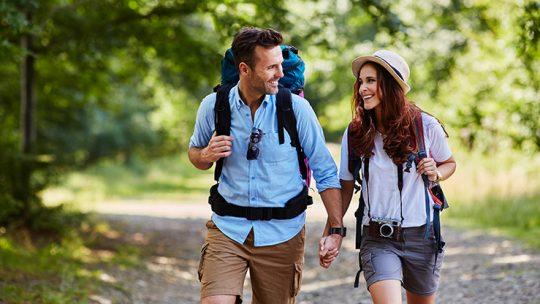 Hiking
Relaxation in nature:
good air, rustic landscapes, deep green forests
Wellness for the soul. You will experience this during a walk or a hike through the wild beauty of the Black Forest. Pristine green forests, waterfalls and bizarre rock formations will make you pause.
The Black Forest is a real experience in every season. Whether a short walk, a hike, a horse-drawn sleigh tour or by bike or cross-country skis. The Black Forest will inspire you with its nature and primitive nature.
Here you can find some tour suggestions.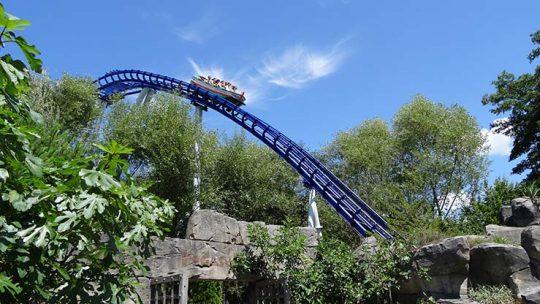 Excursion tips
Discover the Black Forest
and the south of Germany with its places of interest
There are many opportunities for excursions and sightseeing in the surrounding area. The southern Black Forest, Stuttgart, the Swabian Alb or our neighboring country France can be reached in 1 – 1.5 hours and are ideal for a day trip.
For more information about excursions and hiking tours, please contact the hotel.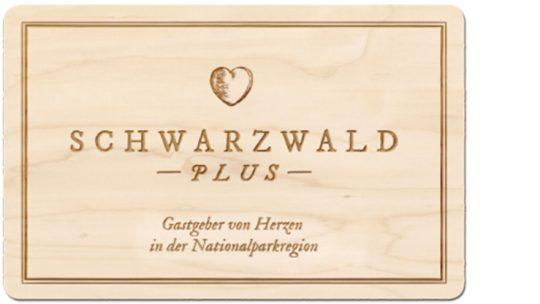 Black Forest Plus Card
Discover the Black Forest with the Black Forest Plus Card!
There is so much Black Forest with us, we like to share it. You get the key for free.
Our special service for you:
From two nights you can use Schwarzwald Plus Card free of charge.
Upon arrival you will receive your personal Black Forest Plus Card.
With it you can experience 80 attractions without extra costs.
In addition, you will receive the KONUS guest card for free use of public transportation.
learn more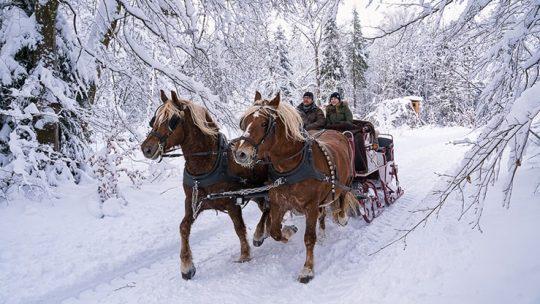 Wintersport
Outstanding areas for cross-country skiing are:
TheBlack Forest High Road, as well as the other towns on the plateau of the northern Black Forest:
For example Freudenstadt, Loßburg, Seewald, Simmersfeld.
In addition, with appropriate snow conditions, various alpine ski and snowboard lifts can be visited.
Ski lifts in the Black Forest
Links to the websites of the lift operators, with current information on snow conditions, slope conditions, opening hours and prices.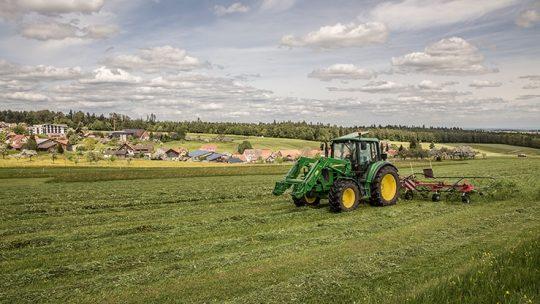 Schwanenwirt's farm
Our four star farm: horses, geese, cows and rabbits – everything to touch
Next to our hotel we run a farm: a rare but very popular combination with our young and old guests.
They enjoy the proximity to our farm, the casual contact with the many animals as well as the four-star luxury of our hotel.
Experience species-appropriate and nature-oriented farming to the extent you wish: Whoever wants to, may also lend a hand here. Especially children love to be near the animals as often as possible.
We also offer professional childcare with exciting games and adventures throughout the German vacations. Make yourself at home in our hotel with farm.
Farm vacations in the Black Forest with 4-star comfort. Recreation and experience in one.
Mother cow husbandry
In the context of mother cow husbandry, our cows are neither milked nor cow and calf separated immediately after birth, as is usually the case. Each cow nurses her calf for 10 to 11 months.
Throughout the year, our calves have the opportunity to graze together with their dams and the herd, or to eat the farm's own feed, such as hay and silage, in the barn.
This rearing method ensures undisturbed development of the calves. In contrast to intensive cattle fattening, the animals grow more slowly due to the grazing and the associated movement, but as a result they deliver meat of a very special quality.
If you have any questions or require further information, please do not hesitate to contact us.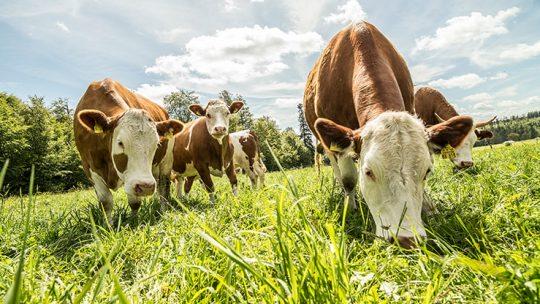 Animals
Animals on the farm – Get up close and personal with the animals
On our farm young and old can see how agriculture and animal husbandry works. The animals are kept in a species-appropriate manner.
Our guests enjoy the direct contact with the animals. They are allowed to pet, feed, help with the stable work or just watch.
You will find a variety of different species with us:
Cattle
We operate a mother cow husbandry. So no dairy farming. The cows get their calves and the milk is only used to raise the calves.
Horses
The Swan has its own breeding of Black Forest Foxes. Oldenburg horses can also be found in the stable and on the pastures.
Ponies
Our hotel guests can ride on these little rascals.
Goats
A small herd of goats romps around in our pastures.
Geese
Our gray geese have their own small goose pond.
Rabbits
Our guests can also find barn rabbits on the farm. However, these are not small bunnies, but real hummers. Nevertheless very cute!
Cats
As on every farm, there are some cats that are doing especially well here.
Dogs
The house dog of the Hotel Schwanen is a Bernese Sennhund and is called Lucy.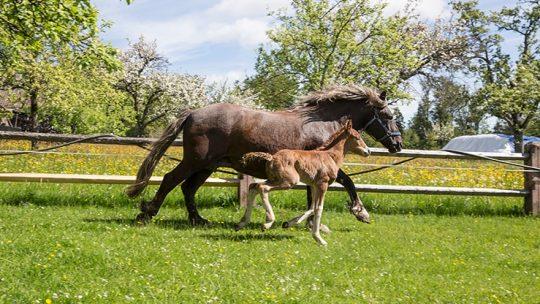 Horse-drawn carriages
An excursion with our Black Forest Foxes – a traditional horse breed that has been bred at Schwanen for a long time – is a wonderful experience at any time of the year. Please inquire with us. All trips are to be announced under 07445/188-0.
Our carriages or sleighs
Carriage up to 8 people
Carriage up to 16 people
Sled up to 8 people
Departure times & prices
Every Tuesday and Thursday at 10.00 am. Duration about 1 hour.
Registration required.
Prices adults € 10.00
Prices children € 6.00
Individual rides
By arrangement, daily rides can be booked
Price per hour € 100.00
Price valid for carriage and sleigh regardless of the number of participants; for the covered wagon up to 10 people, for each additional person an additional € 10.00.